Block Name: "Thorneview"
Host Name: Francisca & Bruce Gazley
Address: 23 Tupper St, Millbrook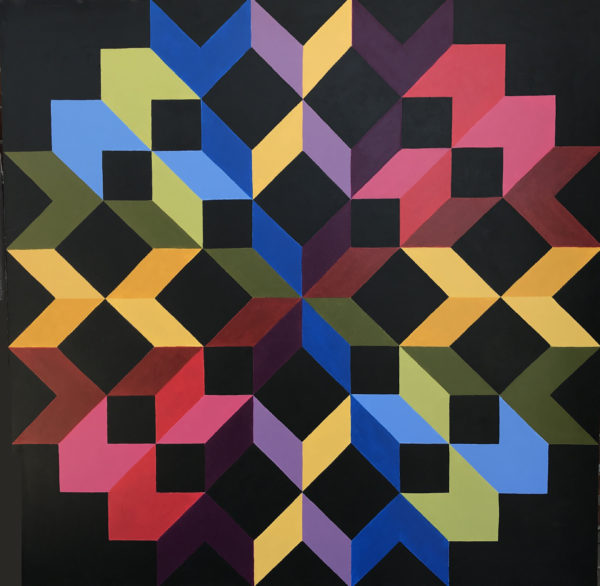 This arresting block is based on the traditional pattern, Carpenter's Star.
But along with the star, the border was doubled and the colours were manipulated to create a 3 dimensional effect. Look closely at the rectangles created by this 3 dimensionality. Think "bricks", as in the bricks that have made this solid, century home (see more on bricks below).
The designers chose the colours to compliment and enhance the brick wall.
Thorneview is the name of the house that boasts this attractive quilt block. The owners of the house and quilt block, Francisca and Bruce Gazley, chose the name Thorneview to celebrate and honour two important things: first, the Thorne Family, a local family who both made bricks and built houses using this brick; and as for the "view", the owners relish the spectacular view looking south-east from the front of their house down over Medd's Mountain.
The Thorn or Thorne Family were one of this area's founding families. Arriving in 1815 from Devon, England, father and 17 year old son (both named John) brought with them the important skill of bricklaying. However, in the early decades of the 1800s the rural areas of Canada lacked many basic industries, including the manufacture of bricks. And so when Millbrook began to take shape and when brick houses and businesses were required, the Thorne family was ready with the expertise and labour to manufacture bricks. Luckily Millbrook and area had large deposits of clay that made admirable bricks. The local brickyard was located at 62 King Street East; just down the hill and around the corner from the Gazley's home.
The prominent hill in Millbrook which glories in the name, Medd's Mountain, is named after the first European settler who owned the land. Today this land hosts a park and a forested area with trails. Throughout the history of Millbrook, Medd's Mountain has been a place to gather and celebrate. When he visited Millbrook, Canada's first Prime Minister John A. MacDonald, is known to have enjoyed a drink or three with friends on Medd's Mountain.
Block designed by: Kate DeKlerck and Bonnie McQuarrie
Block painted by: Jeanne Moran
---
Barn Quilt Trail Etiquette:
Please Respect Private Property. Most quilt blocks are installed on private property and should be viewed from the road.
Please do not trespass. In some cases - only where clearly indicated - the barn quilt may be located on a business and the property may be open to the public.
Please drive carefully. Stopping along busy roads can be dangerous and illegal. Use caution when slowing or stopping near a site
---