Block Name: "Sunbonnet Souvenir"
Host Name: Kathy Abnett
Address: 1878 County Road 10, Ida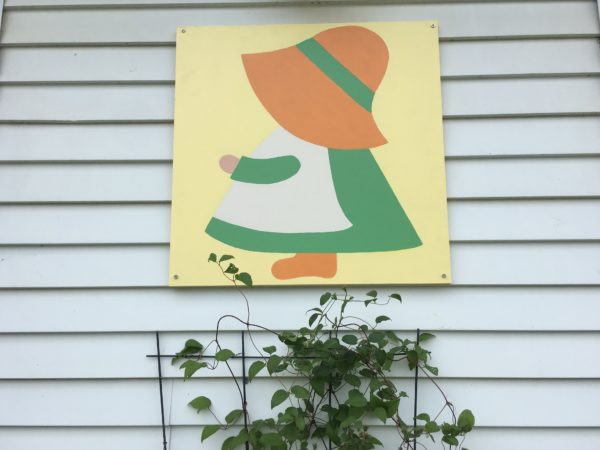 On the southwest corner of County Road 10 and Sharpe Line, the 2'x2' barn quilt block featuring the traditional Sunbonnet Sue quilt pattern is a reminder of the building's interesting history.  Alexander Baptie and his wife Helen arrived in Ida from Scotland in or about 1840, and opened a general store here soon afterwards.  Alexander's untimely death in 1850 meant that Helen Baptie was hard pressed to support herself, four sons and one daughter on the income from the store, and so supplemented her earnings by designing, making and selling bonnets in a section of the store she called "the bonnet shop".     The current owner of the property, Kathy Abnett, chose the Sunbonnet Sue design as a tribute to Helen Baptie's creative enterprise.
Helen Baptie's eldest son stood by his mother in the operation of the store and was named postmaster in 1868, a position that stayed with the store for close to 100 years.  Helen's daughter, also called Helen, married Willliam Lough in 1879, and they took over the operation of the store from Helen, after which their son Roy, with his wife Laura, ran the business and served as postmaster until 1954.  In the early days, supplies for the store came from Cavan Station, and included everything that the community might need: rubber boots, hardware, overalls, groceries, drugs, thread, soap, bluing, coal oil and more.  Once rural mail delivery began in 1913, Roy would often deliver groceries along with the mail he brought around.  He also grafted wild apple trees on his route – look for luscious fruit along the fences in the fall.  Hilbert and Muriel Allen bought the store from the Loughs in 1954 and ran the business until their retirement in 1979.  In the mid 1980s, new owners Sterling and Barbara Willows built an addition and opened a craft shop and tea room that they named The Bonnet Factory.  Sadly, the business didn't thrive, so they remodeled the store into a private home, where Kathy Abnett lives today, proud to honour the history her home represents.
Designed by:  Kate DeKlerck
Painted by: Jeanne Moran
---
Barn Quilt Trail Etiquette:
Please Respect Private Property. Most quilt blocks are installed on private property and should be viewed from the road.
Please do not trespass. In some cases - only where clearly indicated - the barn quilt may be located on a business and the property may be open to the public.
Please drive carefully. Stopping along busy roads can be dangerous and illegal. Use caution when slowing or stopping near a site
---