Welcome!
The CMBQT Committee is actively  building a trail of barn quilts designed to tell the story of our community
in a way that captures the people, history and culture of the Township
News
In this section you will find past and present media coverage of the Cavan Monaghan Barn Quilt Trails initiative
You can also follow us on Facebook! CMBarnQuiltTrails/
---
May 23, 2018
Another student created Barn Quilt project was unveiled this week.
"Our Community Story" was created by the students in Grade 1 and Grade 4-5 at North Cavan Public School in the spring of 2017.
The 20 individual blocks are mounted on five display panels made up of four blocks each, using traditional quilt patterns chosen by the participants.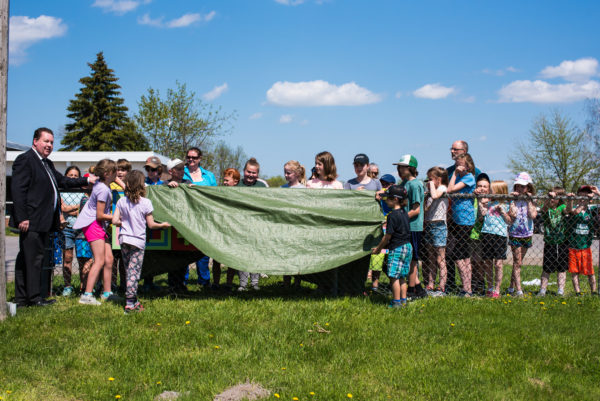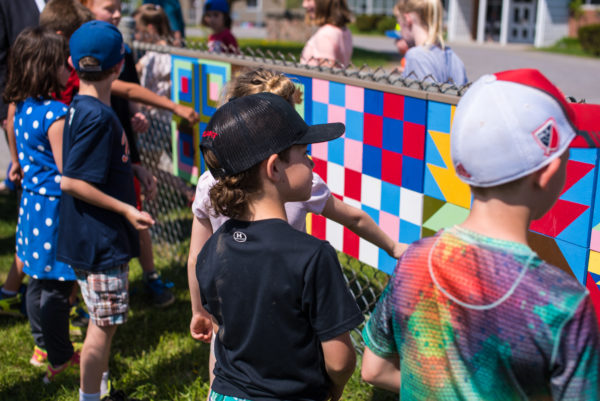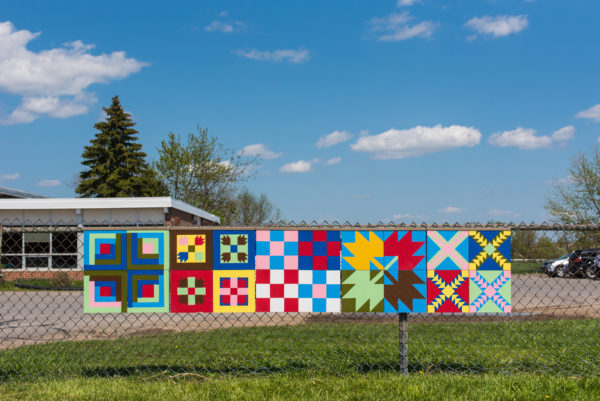 This is the second Barn Quilt Block created by students, assisted by volunteer designers and painters from the Cavan Monaghan Barn Quilt Trail team!
In the spring of 2016, Mrs. Sturgeon's Grade 4 class, made up of 28 students ages 9-10, who enthusiastically embraced the Barn Quilt Trail project and worked together to produce "Sampler Quilts" which is displayed on the south-facing wall of the Millbrook South Cavan Public School.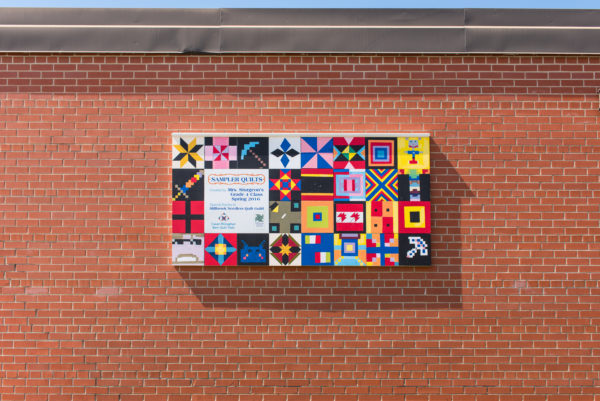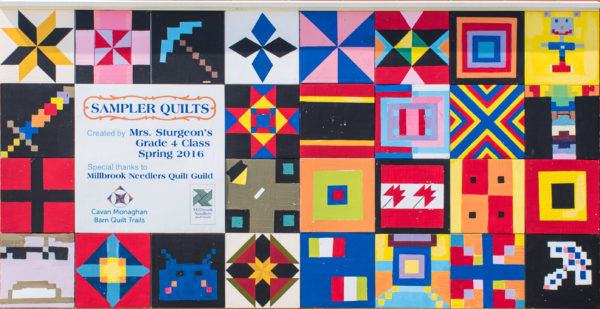 ---
May 15, 2018
Another quilt block has been added to the Barn Quilt Trail this month…."Horse Over the Barn Door"…..installed at the Brackenridge property on Carmel Line.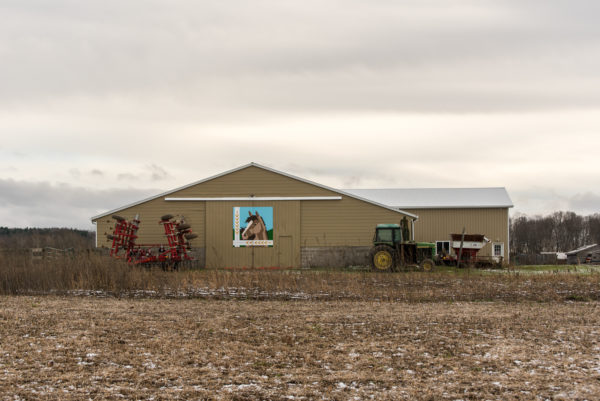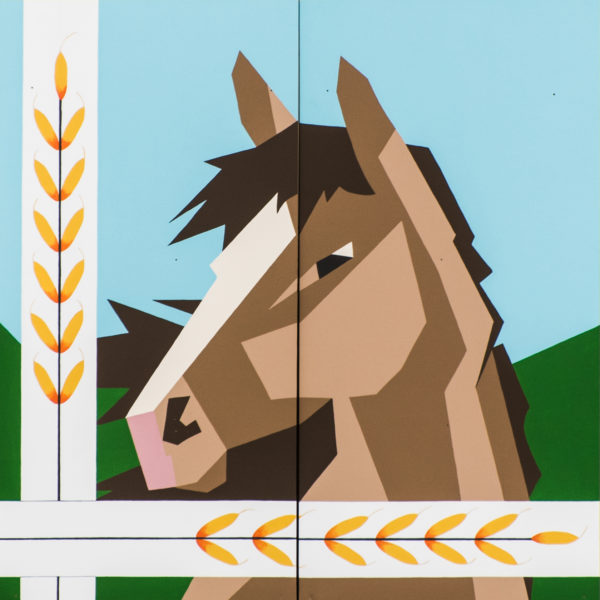 ---
May, 2018
Check out the newest Quilt block on the trail that was installed on Sunday April 29th, at the Brackenridge home at Squirrel Creek Farm.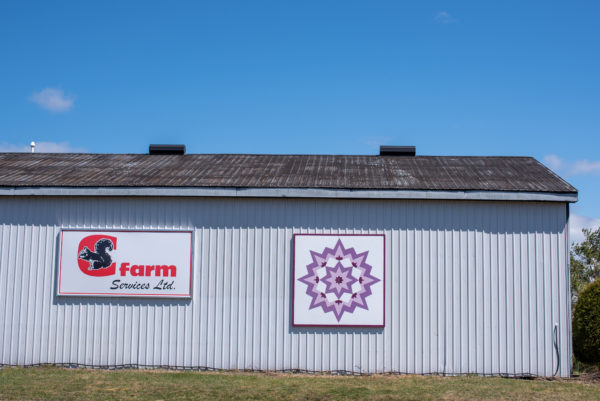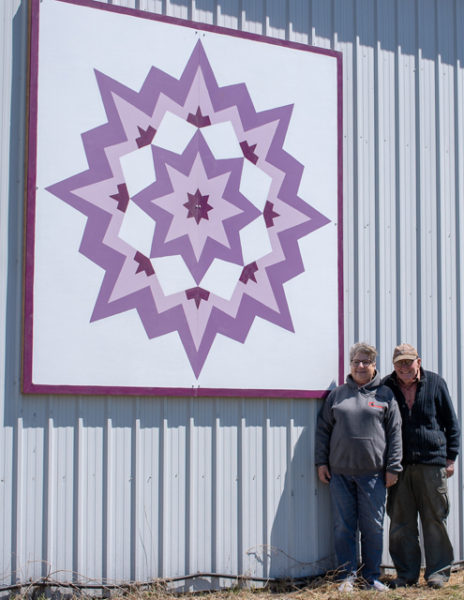 ---
Feb. 10, 2018
Introducing our newest quilt block on the Trail!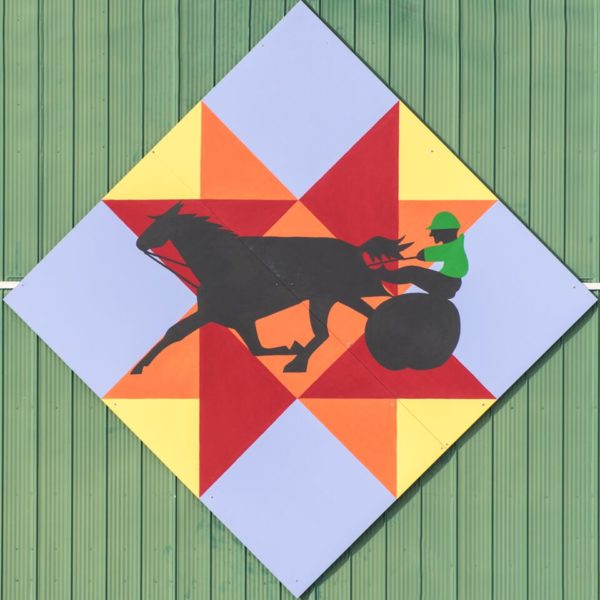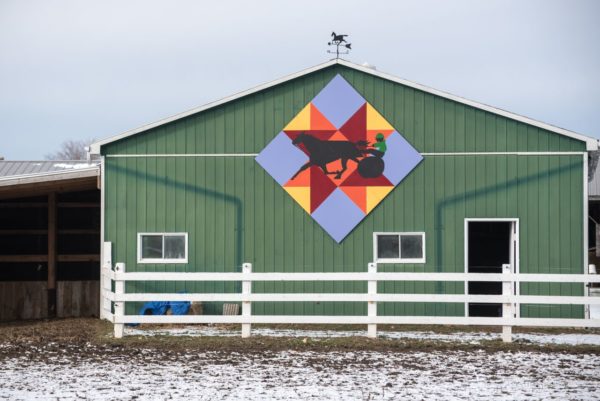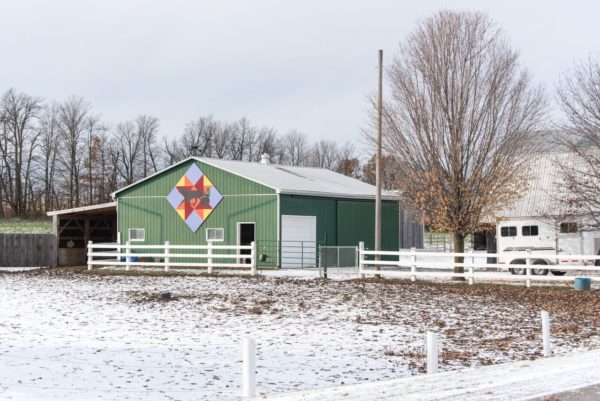 Spinning Star
Ray & Fran Lowery, County Rd #21 West
This traditional quilt pattern is the oddly named "Spinning Star"; and its origins are unclear. However, with only a little imagination the rays of the spinning star become the spokes of wheels of the farm machinery and, especially for Ray Lowery, the spokes of the sulky's wheels. You see, Ray's passion is standard-bred horse racing. Look closely to see the green of the jockey's outfit. This was the colour that Ray was pleased to wear when he jockeyed. The colours of the quilt pattern were chosen to compliment the green of the barn on which the block is mounted. But equally importantly the red, orange and yellow echo the plumage of the laying hens that Fran Lowery keeps. She proudly continues the long tradition of farmers' wives keeping chickens for eggs: food for the family and a source of income.
Lowerys were early settlers in this Township; the first was Maria Lowery in 1824. The historic 1861 map of this Township (Tremaine) clearly shows this land being owned by Ray's great-grandfather, William. The historic 1878 map (Belden) shows the same property as Lowerys' but divided: Ray's grandfather, Reid, having bought half. Because farming goes back a long way in the Lowery history, there have been a succession of barns on the property. The green barn that displays the quilt was built in 1982.
Alongside farming, Ray was and is an enthusiastic horseman, raising and racing horses. And he comes by this passion honestly from his father and his uncles before him! The type of horse Ray is especially keen on is the standard-bred. This is the kind you race with sulkies, hence the silhouette on this barn quilt. In fact in 1986 Ray built a half-size racetrack on his property. Ray also has the distinction of being a founding member of the Kawartha Downs racetrack in nearby Fraserville. Kawartha Downs subsequently expanded to include Ontario Lottery and Gaming slot machines. This facility employed many people and attracted visitors from a wide area. The Lowery farm manages to maintain a balance between the hard work of farming and the leisure and enjoyment of horse racing.
Design by: Debra Jackson and Kate DeKlerk
Painting by: Jeanne Moran and Maya DeMaria
---
Nov. 14, 2017
Take a look at our new promotional video on How to Get Your Own Quilt Block!

---
Locations
Interaction map of the Cavan Monaghan Barn Quilt Trails initiative:
---
Community Engagement
---
June 25, 2018
Our CMBQT team was onsite at the recent Blocks and Blooms Event held in Millbrook on June 23rd.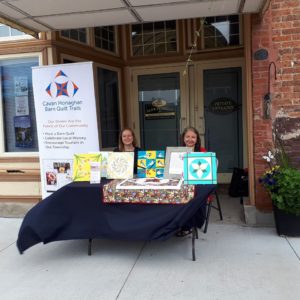 The day was a huge success with stunning homes, gardens and dozens and dozens of quilts to be enjoyed by all!
Quilts both heirloom and modern, with displays curated by the Millbrook Needlers Quilt Guild.
There were examples of Barn Quilt Blocks, as part of the Blocks and Blooms tour. "Peak Garden" at 8 Anne St., "Hole in the Barn Door" at 3 Bank St. North.,and "Thorneview" at 23 Tupper St., were featured Barn Quilt Block locations that also had gardens, heritage properties, and quilt displays .
---
April 3, 2018
Plan to visit some of our local producers during Maple Festivities on April 8th from 10am – 4pm
Enjoy pancakes at Squirrel Creek Farm and stop by our CMBQT booth inside at
Country Charm @ the Barn.
Visit www.cmbqt.com for the story behind our Maple Sugar inspired Quilt Block "Maple Seasons" and read about other Barn Quilt Blocks on the Cavan Monaghan Barn Quilt Trail.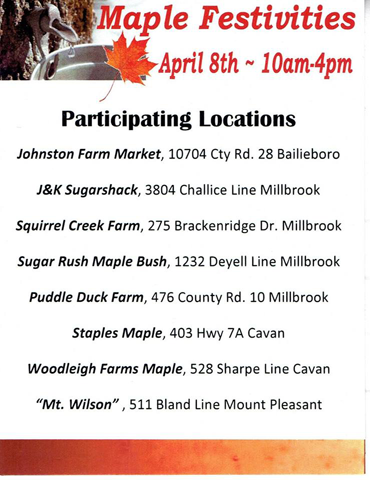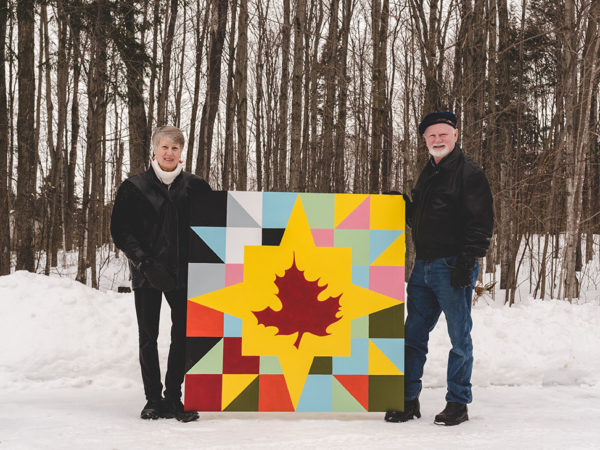 The "Maple Seasons" quilt block is owner Pat Barr's unique design that reflects the importance of the Maple Tree both in the lives of Pat and her husband David, and also in this community and beyond. The colours represent the changing seasons that are so distinctive and evident to those who live among the maples. Pat and David Barr bought this 13 acre parcel in 2004 after a four year search in the area for a retirement property where they could pursue the small, home-based hobby that was seasonal, rewarding and out in the fresh air: making maple syrup was the obvious choice for them!
Making maple syrup was part of David's experience growing up on a farm in the Ottawa Valley, and it had also been a hobby of Pat's Dad, who passed along to them all the equipment to get started.
The sugaring process usually begins early in March and can extend well into April depending on Mother Nature. Cool nights below zero, followed by days with above zero temperatures, are required to allow the sap to expand up from the roots and into the trunk and branches. The trees are tapped, spiles are placed in the holes and metal buckets are hung on the spiles. Then the wait for the dripping begins! It's very rewarding going out to collect the sap and finding the buckets full! The sap is boiled over an outdoor fire, then filtered and finished in the house. Theirs is only have a small operation (60-100 trees), but they are able to supply friends and family with some of the best syrup around! Their syrup has travelled across Canada, and overseas to England, Scotland, Sweden, Germany, Japan and Australia.
---
Dec. 9, 2017
Once again Christmas in the Village was a lovely event.
Thank you to all our volunteers for creating such a fantastic display, rounding up volunteers, braving the cold and promoting our project, and for creating beautiful 1×1 & 3×3 quilt blocks.
We sold 6 of them at our booth.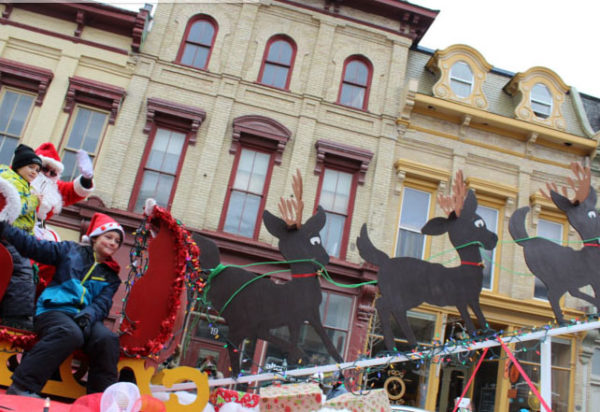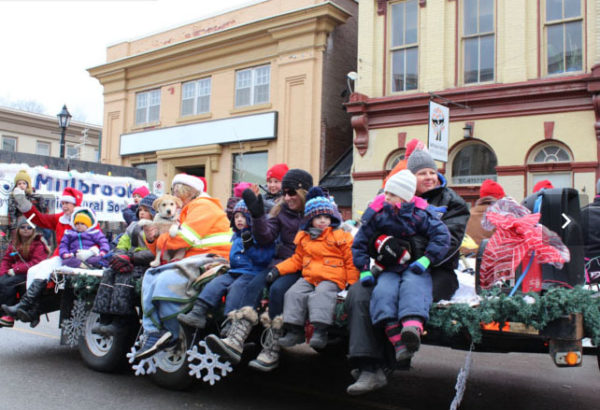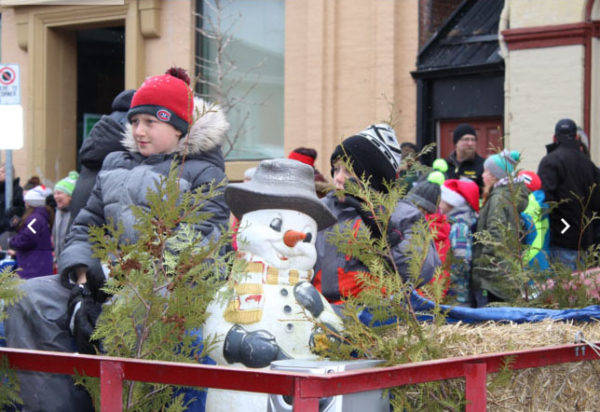 ---
Aug 3, 2017
Thanks to everyone who stopped by our CMBQT booth at on Ladies Night last week.
Record attendance on the street meant we had lots of people stopping by to chat
about our Barn Quilt Trail.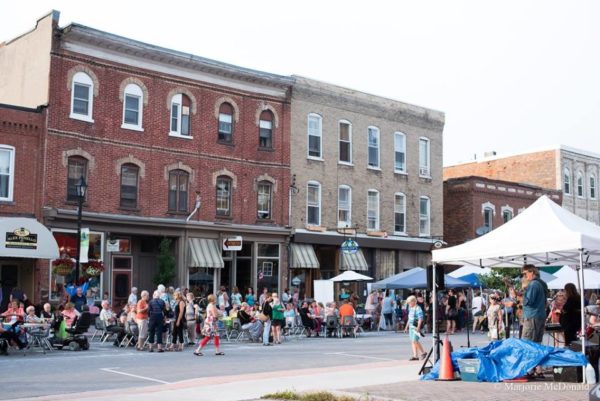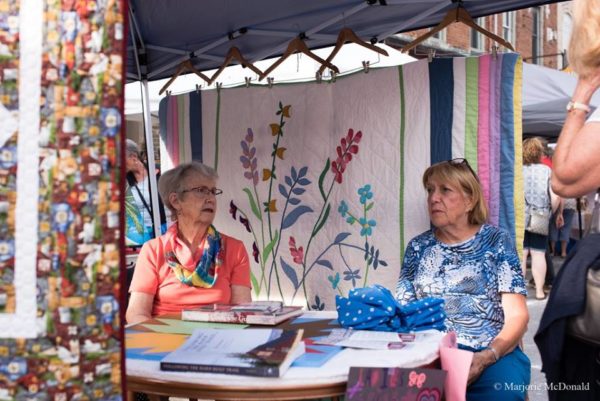 ---
.
Volunteers in Action
Volunteer Profile: Elaine Young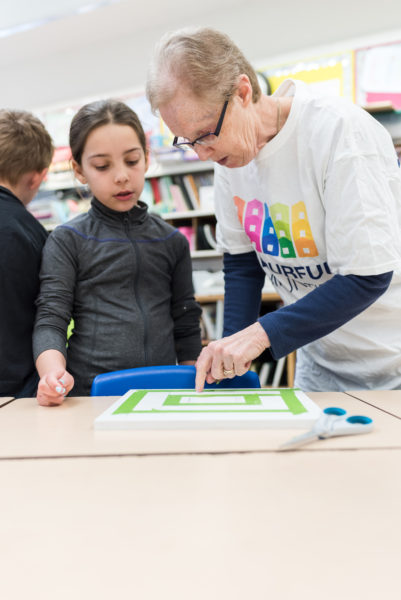 Driving past Cavan Monaghan's elementary schools, you have likely noticed a charming array of quilt blocks, painted every colour of the rainbow.  These beautiful additions to our schools are the direct result of a community partnership between local Principals, teachers and students, and Elaine Young, the School Liaison for the Cavan Monaghan Barn Quilt Trail project.
The role of School Liaison was a natural fit for Elaine who enjoyed a 32-year career as an elementary school teacher and was the Founder (2012) and past-President of the Millbrook Needlers' Quilt Guild.
As School Liaison, Elaine reaches out to schools in the community to determine their interest in having students create barn quilt blocks, and meets with interested staff members to set up a work plan for the students. Elaine also spends time in the classroom teaching children about quilting – helping them to select appropriate blocks and then guiding them as they draw, tape and paint the patterns onto boards.
"It is my belief that when children are involved at all levels of a project, they will take ownership of it and learn a great deal from it," says Elaine.  "When it involves their community, they will remember what they did and be inspired to pass their knowledge on to others and carry those memories for a long time to come. They can take personal pride in having contributed something that will last for many years."
Elaine initially became involved in the CMBQT project when she was contacted by Chair, Lenka Petric who wondered if Elaine or her fellow guild members would be interested in some level of involvement with the program. As a quilter and a student of history, it sounded like an appealing opportunity for Elaine to pursue her hobby while learning about the community.
Although her roots are in Scarborough where she was born and spent her career, Elaine and her husband moved to Millbrook in the fall of 2010. They have found the town to be very friendly and welcoming and thoroughly enjoy their home on the edge of town, surrounded by beautiful old homes and green space.
In addition to quilting, Elaine enjoys knitting, gardening, jigsaw puzzles, reading and keeping up with her family including four step-children, nine grandchildren and three great-grandchildren.
.