Welcome!
The CMBQT Committee is actively  building a trail of barn quilts designed to tell the story of our community
in a way that captures the people, history and culture of the Township
News
In this section you will find past and present media coverage of the Cavan Monaghan Barn Quilt Trails initiative
You can also follow us on Facebook! CMBarnQuiltTrails/
---
July 21, 2017

An exciting new addition to our trail! The One, Two, Buckly My Shoe Quilt Block!
This block located on the property of Ted and Nancy Hodgkinson and is a striking sight and links to many historical aspects of this lovely property. A One, Two, Buckle My shoe block with the added custom feature of postage stamp details and the postal mark used in the early 1900's from this property's post office make it unique and tells a great story.
---
Locations
Interaction map of the Cavan Monaghan Barn Quilt Trails initiative:
---
Community Engagement
---
Aug 3, 2017
Thanks to everyone who stopped by our CMBQT booth at on Ladies Night last week.
Record attendance on the street meant we had lots of people stopping by to chat
about our Barn Quilt Trail.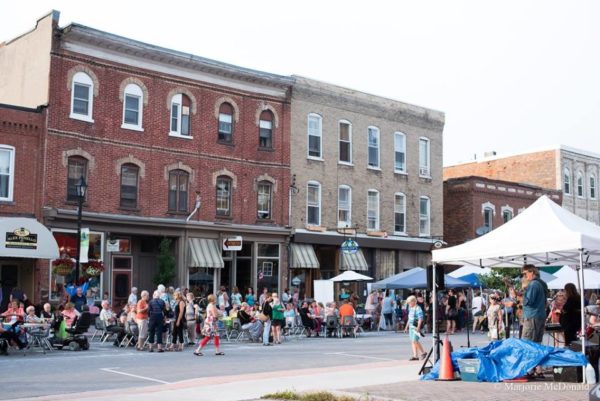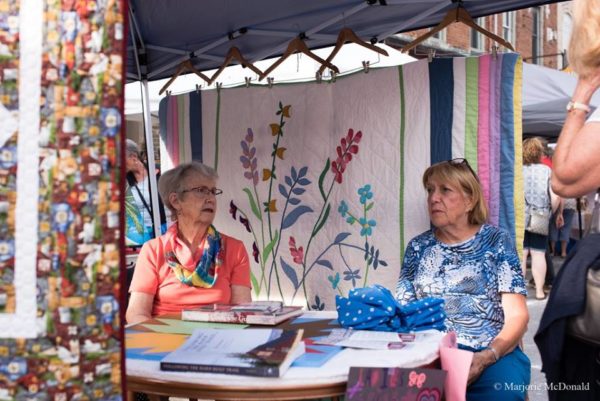 ---
.
Volunteers in Action
Meet Kate DeKlerck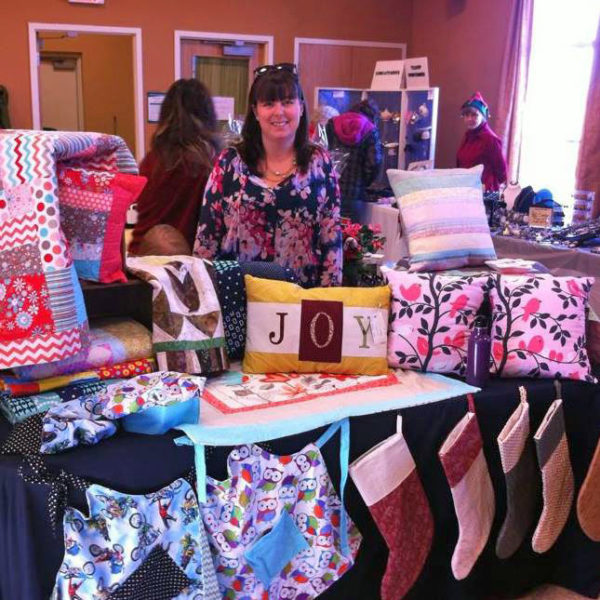 After 5 minutes of meeting Kate DeKlerck, you already know her top priorities in life – her family, her many friends, being active in the community of Millbrook, and anything and everything to do with quilting.
Kate began quilting at the age of 21 while growing up in Peterborough.  She was inspired to pick up this craft after trying her hand at a quilt for a friend's new baby.  During that process, Kate was offered a job at Quilts n' Critters (then in Millbrook) as the owner liked Kate's colour sense when selecting fabrics. She went on to work in the store every Saturday for a couple of years, learning more and more about quilting along the way.
After finishing University where she obtained a BA in Human Services Management and a Diploma in Early Childhood Education,  Kate worked in a licensed daycare centre for four years and then as a nanny and private childcare provider for about a decade, during which time she moved to Millbrook. Many evenings after working with children, Kate would make a cup of tea and retreat to her quilting room for some quiet quality time with her latest quilting project.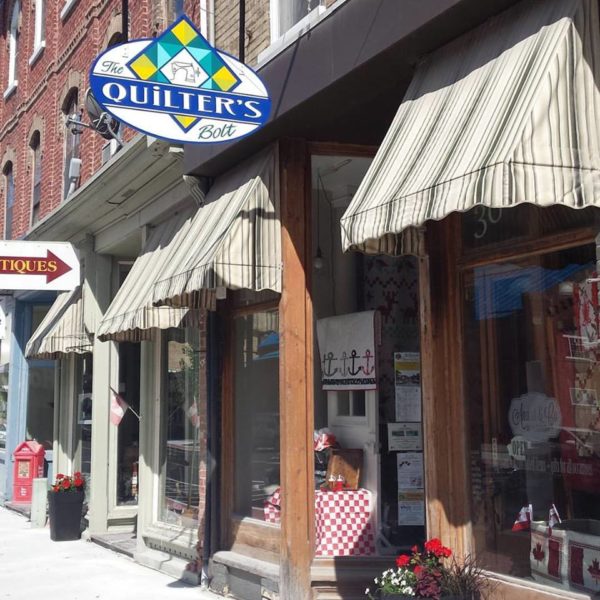 In March 2015, Kate decided to take her hobby to the next level, leaving her childcare days behind to open her own quilting shop – The Quilter's Bolt.
When entering this charming shop at 30 King Street East in downtown Millbrook, customers are greeted by Kate's warm welcome and the cozy yet modern vibe of exposed brick, local handcrafted merchandise and walls of beautiful fabrics.
The opening of the shop was a dream come true for Kate, and to date has proven to be a source of joy and a successful business for her and a great addition to the downtown retail scene.  From the back room of the store, Kate often teaches quilting classes and hosts the monthly Cavan Monaghan Barn Quilt Trail committee meeting, where all the great ideas and plans for the project are discussed.
Kate was excited when the Cavan Monaghan Barn Quilt Trail initiative was launched – a culmination of many of her passions. She is currently a key member of the design committee and has worked on all the quilt block designs to date, finding the project a wonderful challenge. Kate's favourite blocks are those that use a traditional design with a modern twist. 
Kate loves that the CMBQT committee is comprised of a great group of people from diverse backgrounds whom she may never have met without their shared passion for this community initiative combining art, quilting, agriculture and history.
In addition to the CMBQT committee, Kate is also Vice Chair of the Board of Directors for the Family Centre in Millbrook and sits on the Marketing and Ladies Night Committees of the Millbrook BIA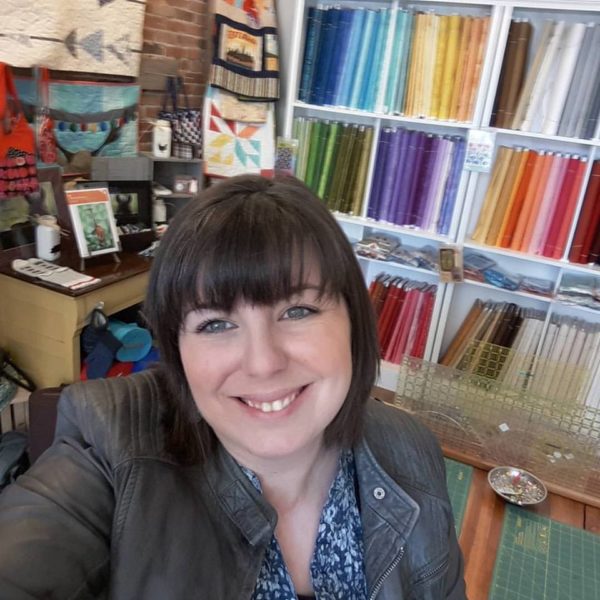 .