Welcome!
The CMBQT Committee is actively  building a trail of barn quilts designed to tell the story of
our community in a way that captures the people, history and culture of the Township
---

---

May 4, 2017
Millbrook Times;
by Deborah Carew
North Cavan Students Work on Barn Quilt Trail Project
Students in Mr.Heuval in Grade One class partnered with Mrs. Carvaggio's grade 4/5 students in the development of blocks which will form the North Cavan Barn Quilt block.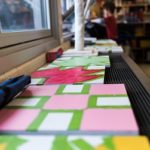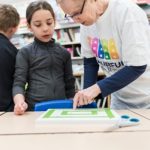 This was the group's third work period, and this time students began to paint the 12" block which had been sanded and primed with the pattern outlined with painter's tape.  Students chose between 12 traditional quilt patterns, including log cabin, flying geese and 9 squares, using a limited colour range provided by the volunteers from the Cavan Monaghan Barn Quilt Trail group. The design and colour choice limits were introduced to manage some of the creativity in order to build a united quilt block display that will be both attractive and represent the quilting tradition in the area.
The North Cavan School display will ultimately incorporate 20 panels painted by these students which will be mounted on the fence near the road to provide high visibility.
Having selected their quilt pattern and mounted it with paint tape on their blocks, students were moving on to painting their design. Lead volunteer Elaine Young offered painting tips to keep the results crisp, suggesting light brush strokes moving away from the taped edges, suggesting that some colours will require multiple coats, and of course that students paint only one colour at a time and allow each colour to dry before pressing on.
Described as one of the largest grassroots public art movement, Barn Quilt Trails are growing in popularity as tools to encourage tourism, promote and appreciate rural art, honour quilters and the textile arts, draw attention to heritage barns and other cultural resources and to tell stories about the community. They consist of large square painted wooden blocks installed on barns, heritage buildings, businesses, or on posts in front of homes, in parks, which find their design from traditional quilt patterns. Most trails are driven by local volunteers who create their own series of quilt panels out of a sense of local pride and to express appreciation for the history and way of life of their rural communities. The Cavan Monaghan Barn Quilt Trail group hopes to have our local trail connect the villages and hamlets throughout the township and the countryside between with images that celebrate agriculture and entrepreneurship in our community.
There are currently five completed panels around the township, at Home Hardware, at Wendy Gerolamy's Yoga Studio on Tapley ¼ Line, on Bank Street in Millbrook and the two most recent installations, the Beechwood Schoolhouse on Sharpe Line and Maple Seasons on Sunset Drive.
For information about the Cavan Monaghan Barn quilt trail, visit www.cmbqt.com, and to learn about other barn quilt trails in Ontario, visit www.barnquilttrails.ca .  KG 
---
February 25, 2017
"Beechwood Schoolhouse"
513 Sharpe Line, Cavan
Block designed by Cathy and Adrian Olley, Kate DeKlerk, Debra Jackson and Bonnie McQuarrie.
Block painted by Jeanne Moran.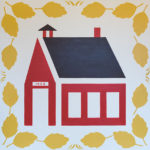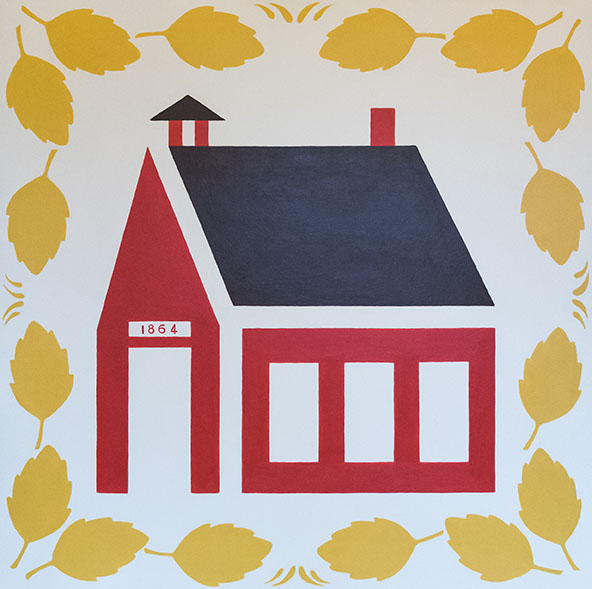 The "Beechwood Schoolhouse" quilt block is based on a traditional Schoolhouse design, modified to mirror Beechwood's features, and is framed by a motif of beech leaves to reflect the name. Adrian and Cathy Olley bought this property in 2013 and continue to cherish the one room schoolhouse that was so well preserved by its previous owners, Murray and Bronwen Hofstetter.
Beechwood School was constructed in 1864, using locally manufactured bricks from the Cavan brickyard, which were also used in St. John's Anglican Church in Ida. The school replaced Sharpe's School (1834), once located just to the south. At least nine of Beechwood's teachers were from the Sharpe family; others were from the Stewart, Lough and McCamus families.
A well to supply water to the school was dug in 1937 and an outdoor pump installed. A wood stove supplied heat in the winter months; it also served as an ideal surface for students to warm up lunch buckets of soup and toast sandwiches! Beechwood School (S.S.#4, Cavan) was closed in 1963 when North Cavan School opened, and in 1965 the property was sold to the Hofstetters, who used the schoolhouse as an artist's studio, preserving the blackboards and some of the other furnishings. It now serves as Cathy Olley's quilting studio. In 2016, a school reunion attracted close to 40 former students back to the site, with many a tale to tell.
---
February 20, 2017
"Maple Seasons"
1477 Sunset Drive, Cavan
Block designed by Pat Barr and Debra Jackson.
Block painted by Jeanne Moran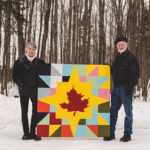 The "Maple Seasons" quilt block is owner Pat Barr's unique design that reflects the importance of the Maple Tree both in the lives of Pat and her husband David, and also in this community and beyond. The colors represent the changing seasons that are so distinctive and evident to those who live among the maples. Pat and David Barr bought this 13 acre parcel in 2004 after a four year search in the area for a retirement property where they could pursue the small, home-based hobby that was seasonal, rewarding and out in the fresh air: making maple syrup was the obvious choice for them! Making maple syrup was part of David's experience growing up on a farm in the Ottawa Valley, and it had also been a hobby of Pat's Dad, who passed along to them all the equipment to get started.
The sugaring process usually begins early in March and can extend well into April depending on Mother Nature. Cool nights below zero, followed by days with above zero temperatures, are required to allow the sap to expand up from the roots and into the trunk and branches. The trees are tapped, spiles are placed in the holes and metal buckets are hung on the spiles. Then the wait for the dripping begins! It's very rewarding going out to collect the sap and finding the buckets full! The sap is boiled over an outdoor fire, then filtered and finished in the house. Theirs is only have a small operation (60-100 trees), but they are able to supply friends and family with some of the best syrup around! Their syrup has traveled across Canada, and overseas to England, Scotland, Sweden, Germany, Japan and Australia.
---
June 9,10 2017
Thanks to everyone who stopped by our CMBQT booth at the Millbrook Fair this weekend.
Record attendance at the fair meant we had lots of people visiting the Exhibit building to see various vendors and our team of quilters working on the Canada 150 Quilt.
See you all at Ladies Night in August.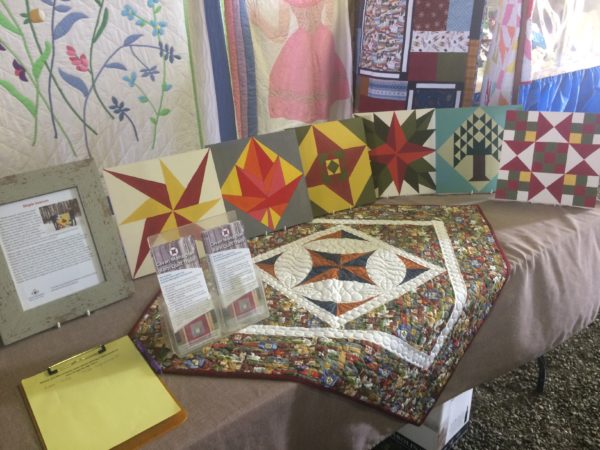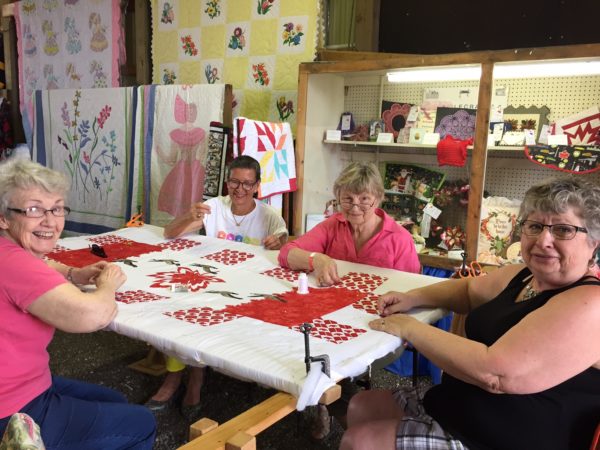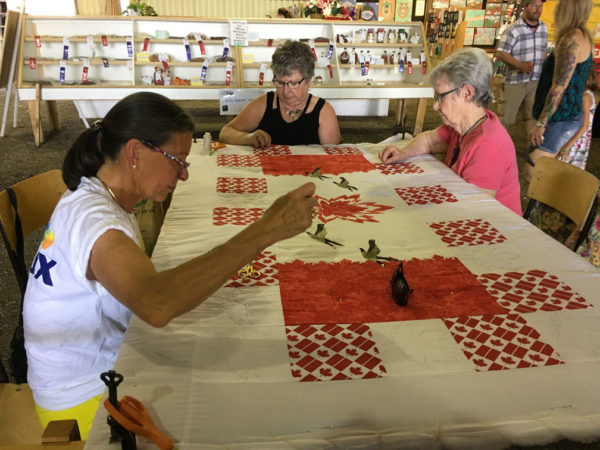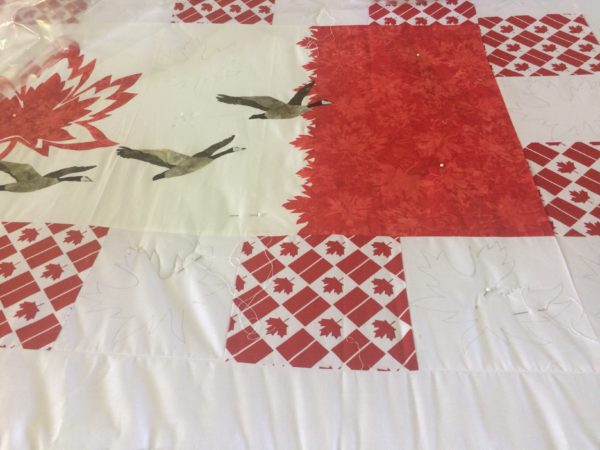 ---
April 1, 2 2017
CMBQT is going to have a display table at Maple in the Township on April 1 and 2, 9:30 to 4:30.
We'll be setting up in the barn at the Brackenridge's, where they will be serving pancakes all day.
Be sure to stop by and learn more about the Cavan Monaghan Barn Quilt Trail.
On display at the CMBQT table at the Maple in the Township event will be Pat Barr's "Maple Seasons" Quilt Block
and Maple-themed 1×1 blocks for sale.
Thank you to everyone that participated in Maple
🍁in the Township this weekend, and stopped by to see us!
A great weekend had by all! Special thanks to our volunteers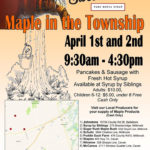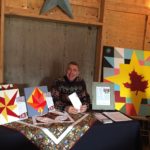 ---
This website is brought to you by….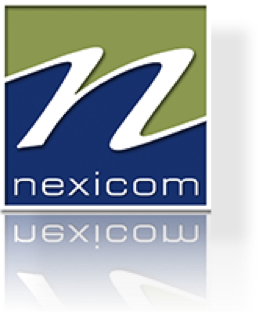 This online presence has been made possible by our generous website sponsor, Nexicom.  With reliable, high speed Internet access, local and long distance Telephone service, and the latest Digital TV and Security technology, Nexicom has become the telecommunications provider of choice for home and businesses in the Kawarthas.
Nexicom's legacy is rooted in its local community involvement and dedication in helping people. Supporting the Barn Quilt Trails  serves the importance of maintaining the enriched history of Cavan Monaghan and ensuring the stories of the community will be shared for many years to come.