Quilt Block #1: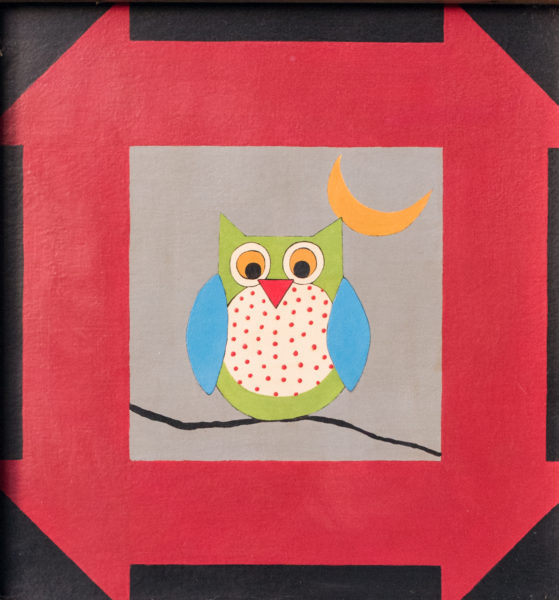 3 Bank Street North, Millbrook
Barn built c. 1837; present structure is a replica of the original
House built c. 1835
Hole in the Barn Door
Millbrook resident and quilter, Jeanne Moran, has been part of the Cavan Monaghan Quilt Trail initiative from the first meeting. She was also the first to paint and install a barn quilt panel here at her home.
The quilt pattern is the very traditional Hole in the Barn Door. The Owl is an appliqué pattern; a pattern is stitched onto a quilt using a different stitch from the usual quilt stitch. Jeanne chose this classic design to adorn the barn on her property where she does all her quilting. She created the image of the owl on a branch using the visual perspective of looking outside through the "hole in the barn door" and seeing the trees with an owl sitting there. The colours were chosen to match the grey of the barn and the red of the door; while the quilter in Jeanne conjured up the imaginative colours of the owl.
This block also celebrates the Barn Owls, a quilting group that has been meeting regularly in Jeanne's barn since 1996.  Each of the members has been touched in some way by cancer and they are part of the Quilts for Cancer in Peterborough and Ida, donating all their quilts to cancer patients. Jeanne says, "some days we do a lot of hooting."
Jeanne and her husband are privileged to live in what is believed to be the oldest house in Millbrook, built around 1835. The original barn was erected around 1837, although the current structure is a replica. There is a historical mystery with this house as curiously no map or plan of the village ever showed a building in existence at this location. This house is a lovely example of an Ontario Regency cottage. The exterior walls are wood covered with embossed panels of tin. The porch is decorated with intricate gingerbread, posts and railings. The original front door was actually on the Baxter Creek side as people came and went using the creek before roads were built. You can glimpse the "front" of the house from County Road #10 just down the hill from Bank Street North.
The house was purchased a couple of years after its construction by a member of the influential Sowden family, John V. Sowden. On the southeast corner of Bank Street North and County Road #10 a flax mill and a distillery were situated, owned by two of the Sowden brothers.
John V. Sowden was the first born of 16 children. But it was his 8th sibling, William Henry, who was to become especially famous; known locally as "Squire". He served in many public offices such as Reeve and Justice of the Peace, and became very prosperous by his many land transactions, including a large property where he created the long-gone "mansion grounds." The late 1870s saw a period of depression for farming in Ontario. Always the savvy business man, Squire Sowden moved his family and a sizeable portion of the population of Millbrook west to Manitoba, where they settled in Souris.
Quilt block designed by: Jeanne Moran
Quilt block painted by: Jeanne Moran
Read more from a recent web feature on Jeanne's role as a key CMBQT volunteer
Volunteers in Action!
Meet Jeanne Moran
Jeanne Moran began quilting in the early 1970's while living in Scarborough with her young family. Since then, her passion for her craft has remained a constant thread throughout her life.
Today, Jeanne is a member of the Millbrook Needlers guild. She also works with a group affectionately called the Barn Owls, a group of quilters who create and donate quilts to the Canadian Cancer Society; warming and comforting those affected by the illness.
Jeanne moved to Millbrook with her husband Ed in 1987.  She has remained active in the community and, when she is not quilting, she enjoys swimming, and participating in Church activities.
Jeanne was one of the first volunteers to join the Cavan Monaghan Barn Quilt Trail project team.  She became immediately interested after attending a preliminary meeting on the project at the Township office.  She was particularly excited by the deep involvement of the owners in quilt block design – telling the unique stories of their families and properties.
A key member of the painting committee, Jeanne has painted most of the 4x4 quilt blocks that have been created to date.  She gravitated to the painting role because of the combination of mathematics and art required.
Interestingly, Jeanne was the first Millbrook resident to have a Barn Quilt displayed on their property – not surprisingly, it is a cheery barn owl who greets visitors to her home!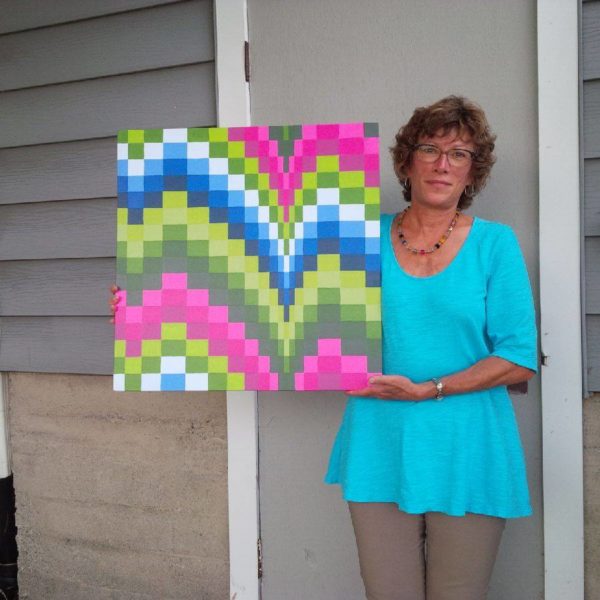 Quilt Block #2:
A sample quilt block was created by Cavan Monaghan resident Susan Rice.
She said, "I created my bargello quilt at a class at the former quilt shop in Millbrook, Quilts n Critters.
It reminds me of the rolling Cavan Hills where I live. The hills and valleys are easily captured in the bargello wave quilt by using multiple colours of fabric.
"This stunning block based on her quilt, is eye catching and captures the essence of our township so well!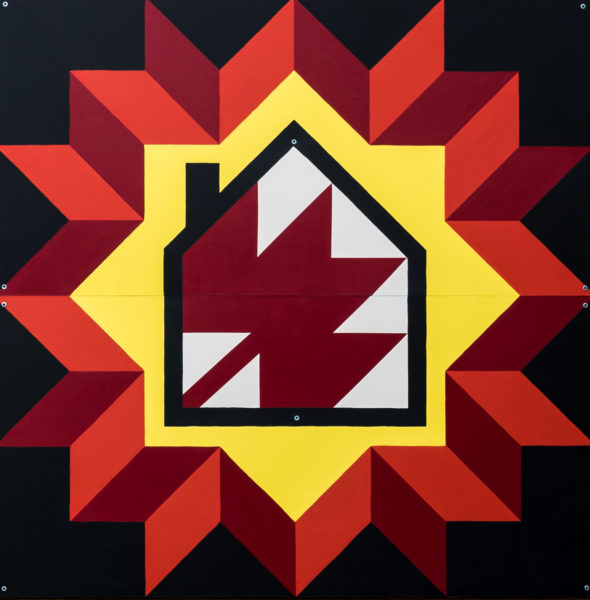 Quilt Block #3.
"Home Hardware"
Dave Britton, manager of our local Home Hardware, and his organization vocalized early support for this project and were eager to participate. As host, Britton also had a hand in the quilt design. He asked that it communicate three elements into the quilt; Home Hardware's Canadian identity; its central role in the communities in which it operates; and the nature of the business. Quilt designers Kate DeKlerk, Bonnie McQuarrie and Debra Jackson translated Home Hardware's story into a colourful and meaningful quilt design incorporating the three components requested. The Maple Leaf block in the centre of the quilt reflects the Canadian heritage of the business.
The stylized house design in Home Hardware colours reflects the community focus of the business, and the carpenter wheel surrounding the house reinforces the nature of the business- home improvement tools and supplies for the homeowner.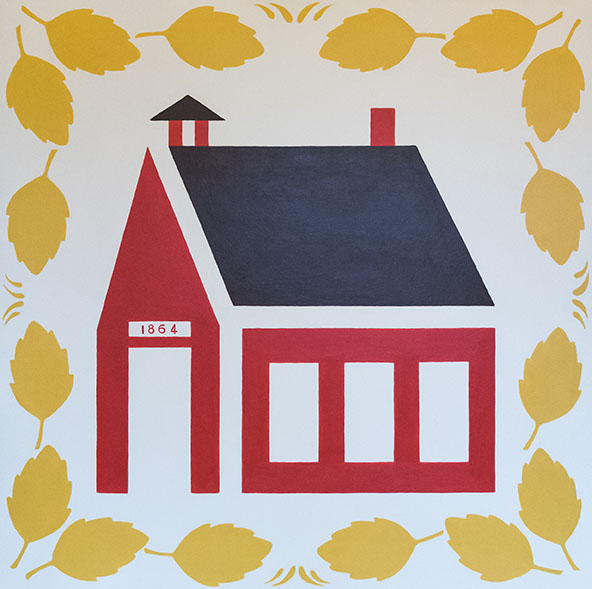 Quilt Block #4
"Beechwood Schoolhouse"
513 Sharpe Line, Cavan
The "Beechwood Schoolhouse" quilt block is based on a traditional Schoolhouse design, modified to mirror Beechwood's features, and is framed by a motif of beech leaves to reflect the name. Adrian and Cathy Olley bought this property in 2013 and continue to cherish the one room schoolhouse that was so well preserved by its previous owners, Murray and Bronwen Hofstetter.
Beechwood School was constructed in 1864, using locally manufactured bricks from the Cavan brickyard, which were also used in St. John's Anglican Church in Ida. The school replaced Sharpe's School (1834), once located just to the south. At least nine of Beechwood's teachers were from the Sharpe family; others were from the Stewart, Lough and McCamus families. A well to supply water to the school was dug in 1937 and an outdoor pump installed. A wood stove supplied heat in the winter months; it also served as an ideal surface for students to warm up lunch buckets of soup and toast sandwiches! Beechwood School (S.S.#4, Cavan) was closed in 1963 when North Cavan School opened, and in 1965 the property was sold to the Hofstetters, who used the schoolhouse as an artist's studio, preserving the blackboards and some of the other furnishings. It now serves as Cathy Olley's quilting studio. In 2016, a school reunion attracted close to 40 former students back to the site, with many a tale to tell.
Block designed by Cathy and Adrian Olley, Kate DeKlerk, Debra Jackson and Bonnie McQuarrie.
Block painted by Jeanne Moran.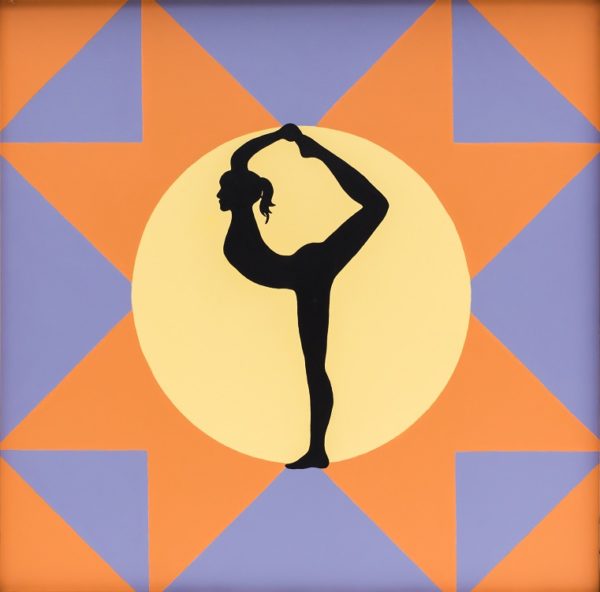 Quilt Block #5
Natarajasana – Dancer's Pose
1128 Tapley ¼ Line, Fraserville
This unique quilt block design conceived by H.A.R.T. Yoga studio owner Wendy Gerolamy.
This pose, described as a heart-opener, tones and lengthens, stimulates and expands, developing balance and concentration. These are among the positive benefits that Wendy, a registered Yoga teacher, passes on to her students at her peace-filled and comfortable studio nestled among mature trees on the property she and her husband Steve own northwest of Millbrook.
When Wendy began practicing yoga 18 years ago, she knew it was something she would follow for the rest of her life. "It's a great way to connect to yourself," she states, " and to nourish the mind, body and soul." Guiding every student to achieve a sense of calm and well-being while developing a greater understanding and appreciation of self are the goals of a true Yoga teacher, Wendy feels, and she encourages growth and grounding through the practice of flow movement and focused breathing.
Quilt Block #6
"Maple Seasons"
1477 Sunset Drive, Cavan
The "Maple Seasons" quilt block is owner Pat Barr's unique design that reflects the importance of the Maple Tree both in the lives of Pat and her husband David, and also in this community and beyond. The colours represent the changing seasons that are so distinctive and evident to those who live among the maples. Pat and David Barr bought this 13 acre parcel in 2004 after a four year search in the area for a retirement property where they could pursue the small, home-based hobby that was seasonal, rewarding and out in the fresh air: making maple syrup was the obvious choice for them!
Making maple syrup was part of David's experience growing up on a farm in the Ottawa Valley, and it had also been a hobby of Pat's Dad, who passed along to them all the equipment to get started.
The sugaring process usually begins early in March and can extend well into April depending on Mother Nature. Cool nights below zero, followed by days with above zero temperatures, are required to allow the sap to expand up from the roots and into the trunk and branches. The trees are tapped, spiles are placed in the holes and metal buckets are hung on the spiles. Then the wait for the dripping begins! It's very rewarding going out to collect the sap and finding the buckets full! The sap is boiled over an outdoor fire, then filtered and finished in the house. Theirs is only have a small operation (60-100 trees), but they are able to supply friends and family with some of the best syrup around! Their syrup has travelled across Canada, and overseas to England, Scotland, Sweden, Germany, Japan and Australia.
Block designed by Pat Barr and Debra Jackson.
Block painted by Jeanne Moran.
Quilt Block #7
"Peak Garden"
8 Anne Street, Millbrook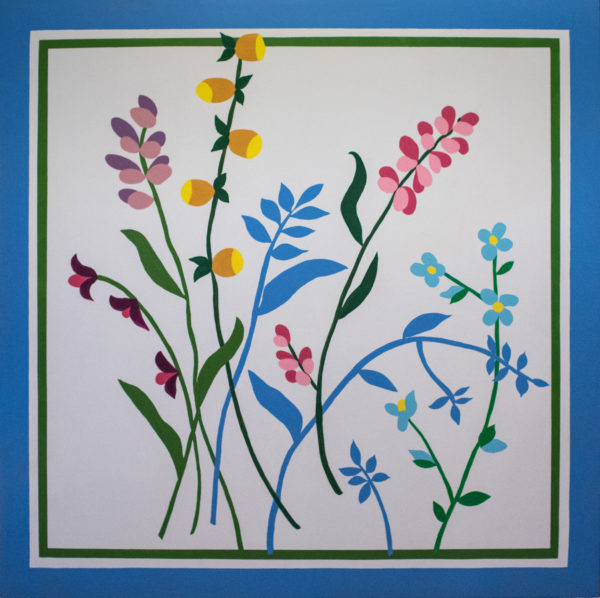 A replica of the quilt Liz Avery's mother made for her in 1985, this unique appliqué quilt block bursting with lupins, foxgloves, fuschias and forget-me-nots recalls for Liz her grandfather's mountaintop garden, aptly named Peak, located in Springville, New York State.  Liz remembers her mother's father teaching her as a young child how to wear foxgloves on her fingers and make hollyhock dolls.  Creativity runs in the family:  Liz's mother, Kashi Carter, was well known, mid 20th century, for her handcrafted sets of historical dolls that became valuable collectibles.  A former member of the Oakville Stitchery Guild, Liz herself is a skilled and ingenious needleworker, and always has at least half a dozen projects underway when she isn't out in her own beautiful garden or up to something creative in the village and beyond.
Liz and her husband Hal moved to this Second Empire home with its characteristic cedar shake Mansard roof in 2005.  The house was built by carriage maker Alexander Ferguson in 1863.  The property extends down to a meandering stream where, a century ago, Gordon McIvor's oatmeal mill stood just to the east.   Liz has created a small pond that features water iris, lily pads and wild phlox.  A series of colourful flower beds cover the slope from house to pond and, in front, memories of Peak Garden are reflected in the hollyhocks and lupins.
Block designed by: Liz Avery, after Kashi Carter
Block painted by Liz Avery, Maya DeMaria, Betty Hobson, Jeanne Moran, Glen Spurrell
Quilt Block #8
"One, Two, Buckle My Shoe" Quilt Block
An exciting new addition to our trail! This block located on the property of Ted and Nancy Hodgkinson, is a striking sight and links to many historical aspects of this lovely property. A "One, Two, Buckle My Shoe" design with the added custom feature of postage stamp details and the postal mark used in the early 1900's from this property's post office make it unique and tells a great story.
Barn Quilt Trail Etiquette:
Please Respect Private Property. Most quilt blocks are installed on private property and should be viewed from the road.
Please do not trespass. In some cases - only where clearly indicated - the barn quilt may be located on a business and the property may be open to the public.
Please drive carefully. Stopping along busy roads can be dangerous and illegal. Use caution when slowing or stopping near a site